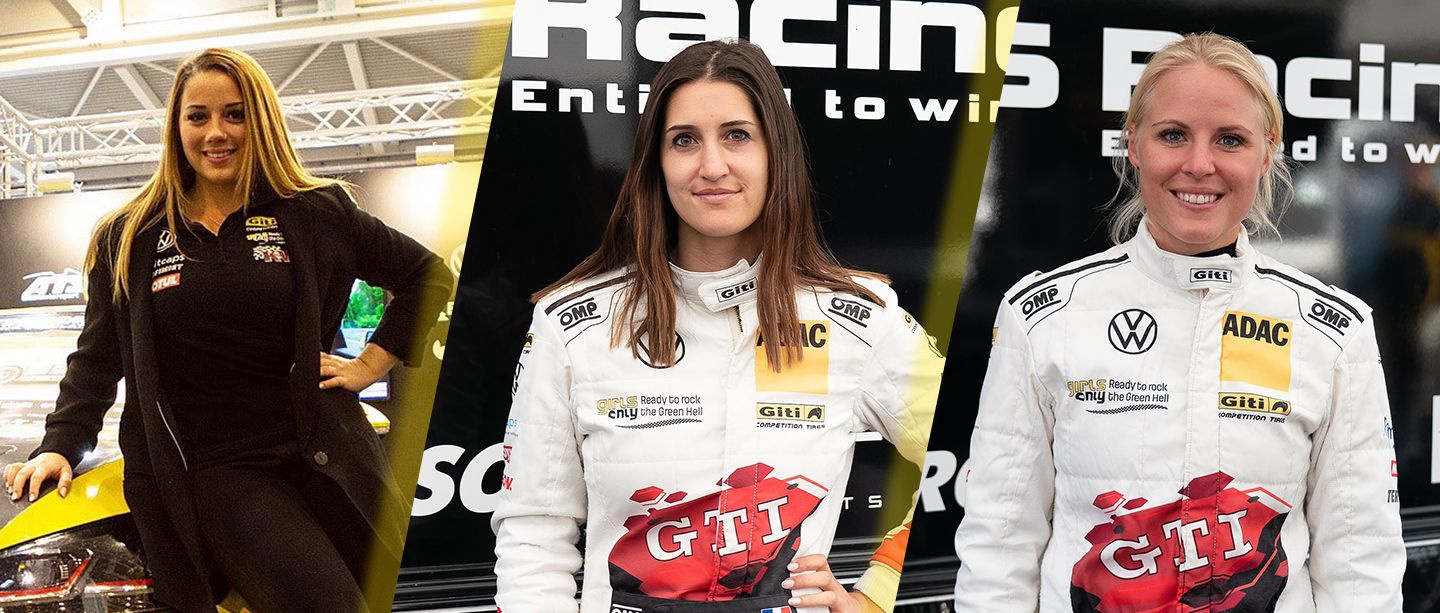 Nürburgring 24-hours race 2020:
Giti Tire prepares for Nürburgring 24-Hour "like no other"
Giti Tire is preparing for this year's Nürburgring 24-Hour with four cars set to line-up on the starting grid, including the Volkswagen Golf VII GTI TCR of its trailblazing #gitiracing all-female racing team.
Running across September 24-27, it is the first time the world-famous sporting spectacle will take place behind closed doors because of the restrictions imposed by the Covid-19 pandemic, which in turn has brought a unique set of communication and logistical challenges.
"The interaction between the teams and the spectators is a part of what makes the Nürburgring 24-Hour race so unique, but as this is not physically possible this year we need to bring this relationship into their homes," said Stefan Brohs, Marketing Director at Giti Tire Europe. "We will do this with the remarkable Giti Tire Motorsport by WS Racing all-female team.
"We have prepared a communication schedule that started in the middle of September and includes a full history of the team, interviews with drivers and engineers and virtual meet-and-greet sessions to name but a few elements. This all builds-up to the 24-hour challenge and the race itself, where behind-the-scenes and race footage will bring this amazing sporting spectacle to life."
With an entire female team inside and outside the cockpit, Giti Tire Motorsport by WS Racing made history last year as the first all-women crew to compete in the Nürburgring 24 Hour race, building a massive following as they overcame 14 hours of engine repairs to successfully cross the finish line.
The team then broke further ground in October, recording their first ever class win in the ninth and last race of the NLS Nürburgring Langstrecken Series in the VW Golf VII GTI TCR. This was followed up in March onwards by their involvement in the Digital Nürburgring Endurance 2020 eSports Series.
The #gitiracing activity will also closely follow the challenges the tyre crew and technologies must address with the intense demands of high-powered endurance racing, and how the manufacturer takes these learnings 'From the racetrack to the street', as highlighted on the website.
External PR will be further boosted with the manufacturer's partnership with motorsport.com and a German TV production company will be taking hours of footage for a forthcoming documentary, Girls Only. All the activity is designed to boost reach and increase brand awareness.
Alongside Giti Tire Motorsport by WS Racing's Volkswagen Golf VII GTI TCR, the team will also have a Volkswagen Golf VI GTI CUP, Volkswagen Golf VII GTI CLUBSPORT and an Audi R8 LMS GT4 on the starting grid.
All cars in the competition run on GitiCompete GTR1 tyres which form part of a comprehensive range of competition racing tyres which are used in events around the world. The proven technology findings are adapted to further develop its everyday passenger car portfolios.
Stefan Fischer, Managing Director - Product Technology at Giti Tire Europe, said: "We are proud to be part of an exceptional motorsport set-up that is breaking new ground every year, not just here in Europe but in race meetings around the globe.
"Doubtless this year's Nürburgring 24-Hour will be an event like no other which will create its own unique set of challenges, but we are as prepared as possible to ensure we deliver on the track and bring all the challenges and excitement to the millions of television and online viewers worldwide."